Wise Woman's Tarot
A Multicultural, Matriarchal Deck and Book
by Flash Silvermoon - Illustrated by Barbara Vogel
The Wise Woman's Tarot is a multicultural, matriarchal book with colorful companion deck. It celebrates the global female lineage in 78 powerful images.
Flash Silvermoon's scintillating text and densely symbolic card designs are rooted in the body of ancient esoteric knowledge. Together they make r/evolutionary inroads into the very structure of the Tarot itself. In short, Flash's work forges a sacred marriage between ancient wisdom and progressive thinking.
An accessible tool for divination, The Wise Woman's Tarot will deepen your understanding of the Ancient Mothers' wisdom. Speaking clearly to beginners, long-time Tarot enthusiasts and adepts alike, The Wise Woman's Tarot strives to raise the evolutionary bar for all!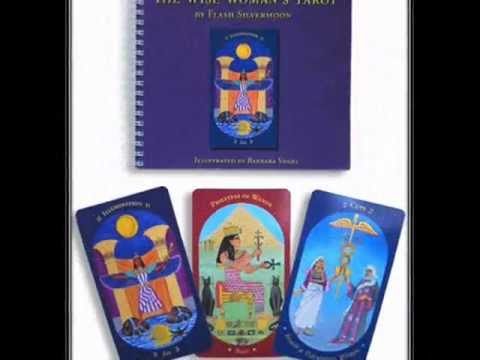 The Wise Woman's Tarot has been developed independently over some 25 years, during which time we have seen the births of the Witches' Tarot, Motherpeace, Daughters of the Moon, and even the Goddess Tarot. So while The Wise Woman's Tarot may appear to be a newer sibling born to the family of woman-identified Tarot deck & books, it is actually an "old soul", recently incarnated. (Although it is not necessarily a purely feminist tarot or womyn's tarot, it can be easily embraced by such groups.)
As a Dianic (Wiccan) Priestess, Flash is motivated by Dianic values to demystify and share knowledge. Her work is set forth in a flowing, readable style in this comprehensive 200 page volume. She keeps the reading light while she draws heavily from her accumulated wisdom and personal experiences as a professional reader.
The text of The Wise Woman's Tarot achieves academic quality, widely researched, packed with well organized information available through essays, card descriptions, anecdotal stories, example readings all supported by a comprehensive index, footnotes, bibliography, charts and appendices. The book itself is also beautiful with all the cards in full color and dozens of related photos.
The writing is deep and evocative, going into the akashic records and ancestral lineage of the Divine feminine as represented through cultures the world over. Flash offers an engagingly-readable blend of arcane knowledge and matriarchal heritage, the details of which are thoroughly captured in her card designs, illustrated by Barbra Vogel following Flash's guidelines.
[mp_list_products category="Wise Woman's Tarot"]
Read excerpts from The Wise Woman's Tarot
The Wise Woman's Tarot in a nutshell...
a multicultural, matriarchal, magical mystery tour
78 powerful images of Goddesses, Gods, heroines from around the world
reproduced in stunning color with latest cutting edge technology
a pandora's box of new/ancient embedded symbolism fully explained
fascinating user-friendly 200pg book with all cards pictured in full color + b/w photos
excellent "how-to" key to tarot for novice & adept alike
demystifies tarot for divination & psychic development
learn to let the tarot speak to you, read for your pets too
diagrams of 5 layouts corresponding to astrology, health & more
breaking ground beyond limited views of sex roles & gender
well-researched & footnoted treasure trove of Herstory
Ride the wheel with Kali! Feel the poetry of Sappho! Taste the honey of Oshun!
What people are saying about The Wise Woman's Tarot:
Patricia Monaghan, author of "The Goddess Path":"in compelling images and vivid text this deck opens a secret door to the heart of women's wisdom. Every Goddess library needs this!"
Kay Gardner, Priestess, musician: "Flash is the best tarot witch on the east coast!"
Joan Larkin, poet: "with its deep, powerful interpretations and gorgeous glowing cards, TWWT is a healing, integrating, inspiring experience - a pleasure!"
Byllye Avery, founder Black Woman's Health Project: "...so beautiful!..love the politics and inclusive nature of book & cards. ...spiritual world view puts us all under the sky feeling powerful and strong..!"
Caron Cadle: Goddess scholar: "TWWT is pure magic;...deep insight & profound knowledge; ...for all who love the Goddess and resonate with women's power!"
Charla Herman, founder Hawkwind: "insight...beauty...look forward to sharing TWWT!"